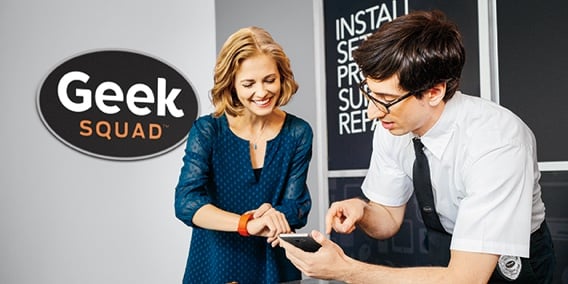 Geek Squad Home Theater Services

Charlotte-North Lake
Store Hours
Day of the Week
Hours
Mon

10:00 AM

-

9:00 PM

Tue

10:00 AM

-

9:00 PM

Wed

10:00 AM

-

9:00 PM

Thu

10:00 AM

-

9:00 PM

Fri

10:00 AM

-

9:00 PM

Sat

10:00 AM

-

9:00 PM

Sun

11:00 AM

-

8:00 PM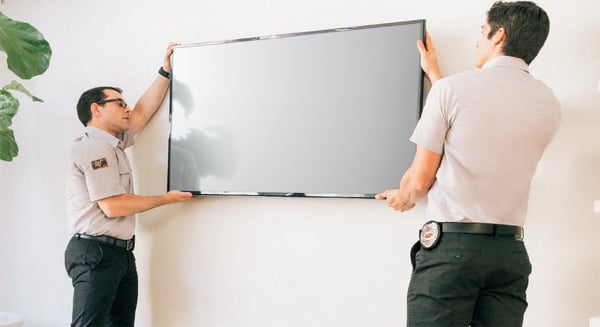 In-Home Consultation
Home Theater Services
We can mount your TV, set up your audio/video products, and connect them all to a home network. We can also protect and repair your home theater system.
Getting Help is Easy
In Home or In Store
You can bring your tech to us, or we'll come to you to install and set up new products and repair appliances and electronics already in your home. Plus, we offer 24/7/365 tech support over the phone and online to answer questions and walk you through fixes you can make yourself. Any way you choose, we've got you covered.
Repair
We'll fix it no matter where you bought it.
Support
Get questions answered and problems solved 24/7/365.
Set Up & Install
We'll get your product up and running and show you how to use it.
---
Mounting and Installation Services
You can count on the Charlotte, NC Geek Squad team for everything entertainment-related, and more, not just home theater installation. No job is too big or too small. Whether you want
TV mounting
(even if you didn't get your television at Best Buy), video/DVD player,
streaming device or TV antenna connection
, or just want to know how to program a
universal remote
to give you all-in-one control of your entertainment options, we're ready to help. Do you need your cable concealed behind the walls? No problem. TV mounting services determining the ideal position so everyone in the room has a great view? You got it. Configure your smart TV or smart Blu-ray player apps for media streaming? Sure thing. Television installation over your brick or rock fireplace? Check.
TV calibration
to be sure you're getting the optimum colors and the sharpest images your television can provide? You're covered. If it's anything related to
TV mounting and setup
, we can handle it for you.
Enhance the System You Already Own
Sometimes when you're looking to upgrade your entertainment system, instead of starting from scratch, it makes more sense to transform an existing space. We'll evaluate your acoustics and layout, along with your current equipment, then make recommendations for ways to add entertainment excitement to your room. Maybe you'd be best served by surround sound installation, with speakers and subwoofers positioned on walls, in-wall or in-ceiling. Or maybe you want to enjoy your music all around your home, or out on the patio or deck. We'll take care of it, perhaps using wireless home theater components, and an audio transmitter, for instance. Often a relatively minor tweak to your home audio system design can bring a robust new exuberance to the room, without a full audio install.
---
Geek Squad Charlotte, NC: We're Here for You
Your local Geek Squad team is based out of the Best Buy store situated at 10221 Perimeter Pkwy in Charlotte, NC. Along with home theater system installation, the Geek Squad Charlotte offers a full range of services, including repair and installation of appliances, computers, car electronics, cameras and camcorders, cell phones, wearable technology, and more, plus we're experts on the full range of connected and smart home services. We specialize in keeping your tech in working order, and in helping you optimize your life, and your entertainment, in a new tech world. We're available 24 hours a day to help over the phone or using remote online chat. And, you can always schedule a Charlotte, NC agent to come to your home or office for any of your design, installation, optimization and programming support needs.
Creating Your Dream Home Theater System
In Charlotte, NC area, we're your go-to solution for designing and setting up home entertainment systems that provide unparalleled, customized multimedia experiences. We can help you develop the media room you've always dreamed of, as well as a comprehensive home audio system that enables your music to move with you from room to room, and a whole home video system that lets you pause a movie in one room and resume watching it in another. The high-performance sound and video experience you've always wanted is just a click or a phone call away.
A great first step is to sign up for our free
In-Home Consultation
. You'll receive home theater recommendations from a highly trained In-Home Advisor in the comfort of your home. We can help design an ideal entertainment space, help you cut the cord on cable and satellite TV, send music around your home and stream videos to devices, and so much more. There's never any sales pressure or obligation to buy, and if you love the recommendations from your In-Home Advisor, they can be your single point of contact, from initial design to delivery and installation. Your In-Home Advisor will also be available for any future questions and new projects.
Since we're familiar with all the latest home theater gear and equipment, we can help you configure your new system with the features you want from top to bottom, including audio, video, gaming, and control. We'll work with you regarding the placement of speakers, sound bars, screens and cords for optimal sound and viewing. Additionally, if you're doing a home remodel, we're happy to partner with your architect, contractor or builder to incorporate your entertainment plans into the project from the get-go.
---